Women in Conservation Mentoring Project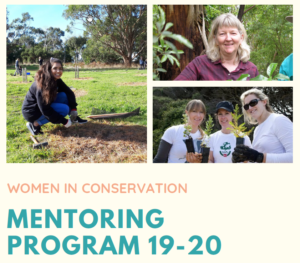 MPLN Landcare Facilitator Jacqui Salter recently received an 'Our Catchments, Our Communities Leadership Development Grant' from DELWP to support her to establish a six-month mentoring program for women on the peninsula who are working or studying in the conservation field who would like to further develop their career.
The 'Women in Conservation Mentoring Program' will run from October 2019 until May 2020 and provide women with an opportunity to develop a greater understanding of the conservation industry and how to get ahead.
Each woman will be matched with a mentor with 5+ years' experience in the industry who has similar strengths. Mentors can act as a source of motivation, empowerment, support and information.
The mentoring experience aims to be a mutually beneficial relationship for both mentor and mentee. The program will assist women to recognise and develop their strengths, articulate their goals and develop a plan of how they will achieve them, develop their social networks and better understand the conservation industry.
Application and Selection Process
Places in the program are limited to 25 and participants must be either studying or working in the
conservation industry.
Step 1:  Do the 'VIA online character assessment' and record results: https://www.viacharacter.org/survey/account/register
Step 2:  Apply online here: https://www.surveymonkey.com/r/WKNZT8F before 14th October
Stage 4 – Receive email advising if you have been accepted into the program on 16th October.
Stage 5 – If you have been accepted into the program, attend the workshop on Sat 26th October and begin your mentoring journey!
Selection Criteria
Selection criteria include:
• Working or studying (or recently studied) in the conservation field (essential)
• Able to commit to attending two workshops (Sat 26 Oct 2019 and Sat 9 May 2020) (essential)
• Able to commit to monthly catch-ups with mentor (essential)
• Match with mentors available
Key dates
Monday 16th October – EOIs close
Wed 18th October – Participants contacted to confirm if they have been selected to participate inthe program
Sat 26th October – First workshop for both mentors and mentees
1st Nov – 30 April – Mentors touch base monthly
Sat 8th Feb – Mid-Program check in.
Sat 9th May – Final all-day session
This program is supported through DELWP's 'Our Catchments, Our Communities 'Leadership Development' grant
For more information, please email: Jacqui Salter    facilitator@mplandcare.org.au
or phone 0408 213 079