Pest Animals
Invasive species are the highest impact threat to species in Australia. The Mornington Peninsula Landcare Network supports Landcare groups and landholders to manage the impact of introduced pest animals have on the unique flora and fauna of the Mornington Peninsula.
DRUM DRUM ALLOC FOX CONTROL
Southwest Mornington Peninsula Landcare conduct a community fox control program (Rosebud/Main Ridge/Arthurs Seat) through the Greens Bush to Arthurs Seat Biolink. For more information email: gb2as@mplandcare.org.au
FERAL SCAN
Farmers and community groups can now use smart phones and mobile devices to record pest animal activity in their local area into the highly popular FeralScan website using latest technology. FeralScan assists landholders and community groups to record pest animal activity and enables them to use data to prioritise and plan pest control campaigns and monitor outcomes.
RABBIT CONTROL
Rabbit control workshops have been conducted by  Merricks-Coolart Catchment and Dunns Creek Landcare Groups. Both groups are able to provide members with advice and equipment to control rabbits using best practice methodology for the prevention of damage to off-target wildlife.
INDIAN MYNA ACION GROUP
Mornington Peninsula Indian Myna Action Group (MPIMAG) aims to address the problem of increasing Indian Myna numbers through education and local action. Mornington Peninsula Indian Myna group supports residents to trap Mynas humanely.  For information on how you can be part of the program please contact Rob Nigro at galaxias@bigpond.com or Chantal Morton at facilitator@mplandcare.org.au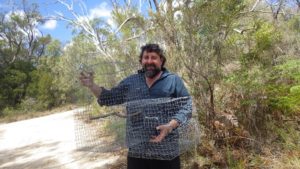 SPECIALIST ADVICE
There are a number of registered and insured local pest animal contractors on the Mornington Peninsula. A list of controllers can be found by searching the Vertebrate Pest Management Association Australia.