Greens Bush to Arthurs Seat Biolink
The Mornington Peninsula Landcare Network's 'Greens Bush to Arthurs Seat Biolink' (GB2AS)  is an ongoing project to improve catchment health and address the lack of landscape connectivity between two significant areas of remnant vegetation. Through revegetation and weeding and fencing of remnants, a biolink is being created across private property in the project area, benefiting numerous threatened fauna including Powerful owls and Swamp skinks.
Background
In 2017, the Mornington Peninsula Landcare Network received $300,000 from DELWP's 'Our Catchments, Our Communities' (OCOC) initiative for their 3.5 year Greens Bush to Arthurs Seat Biolink Project (GB2AS) to implement the biolink plans for Main Creek Catchment Landcare and Southwest Mornington Peninsula Landcare groups, which were developed through the Linking the Mornington Peninsula Landscape project. Implementing these plans has assisted reconnecting the two largest core patches of remnant vegetation remaining on the Mornington Peninsula, Mornington Peninsula National Park (Greens Bush) and Arthurs Seat State Park, particularly through revegetation and protection of remnant vegetation on private properties. In 2019 the project received a $20,000 Victorian Landcare Grant to further extend the biolink. In 2020 GB2AS partnered with the Work For Victoria Crews to undertake follow up weed control and expand revegetation areas on existing biolink properties. In 2021 GB2AS 'Strengthening Connections' was awarded a $30,000 Victorian Landcare Grant. In 2022 the MPLN received another OCOC grant of $147,000 to undertake land management plans on 8 farms in the project area and a Victorian Landcare Grant totalling $20,000 to further support on-ground works.
Achievements
Delivered by the Mornington Peninsula Landcare Network, GB2AS has made some remarkable achievements in the first 3.5 years of operation. Thirty-five private properties became involved in the project in varying capacity, many of these contiguous, with 28 landholders signing formal landholder agreements.
Through careful planning site specific local provenance tubestock species were selected for installation on bare land that was unlikely to regenerate on its own.  Revegetation has been undertaken on fifteen properties, in partnership with local primary & secondary schools, tertiary institutions, Scouts and Girl Guides Australia and the wider community. A total of 830 volunteers contributed to the planting of 27,500 Indigenous plants.
Removal of habitat changing weeds has also occurred on 56 hectares of remnant vegetation on 20 private properties, restoring these valuable areas to better support native wildlife. Eligible landholders were also encouraged to apply for Melbourne Water Stream Frontage Grants to control weeds along three high priority reaches along Drum Drum Alloc Creek, Splitters and Main Creeks. Eleven properties applied for these grants, leading to 2 km of improved stream frontage and allowing GB2AS funds to be directed outside the riparian buffer. Weeding works have been complimented by the Mornington Peninsula Shire's annual roadside weed program and a Parks Victoria Good Neighbour Grant application enable focussed weed control in Mornington Peninsula National Park (Greens Bush).
Another highlight of the project has been the installation of 11 nest boxes on properties with an absence of hollow bearing trees. Fox control has reduced predation pressure on many of the indigenous fauna in the area including antechinus and White Footed Dunnart.
A large focus of the project has been community engagement and several field days and workshops have been run with the intention of empowering landowners to best manage their land to support wildlife. We have also adopted a novel approach to monitoring the biolink through the use of drones to video planting areas before and after works. In addition, GB2AS has partnered with Birdlife Australia who has been conducting regular bird surveys.
The success of this project is largely due to strong partnerships with key stakeholders, including the Melbourne Water, Mornington Peninsula Shire, Parks Victoria, Birdlife Australia, Chisholm Institute, Holmesglen TAFE, Advance College, Balcombe Grammar, Mornington Secondary, Dromana Secondary, Padua Secondary College, Flinders Christian Community College, Peninsula Specialist College and Scouts Australia. In addition, the enthusiasm and generosity of community members keen to get involved and make a positive contribution to environmental values cannot be overstated.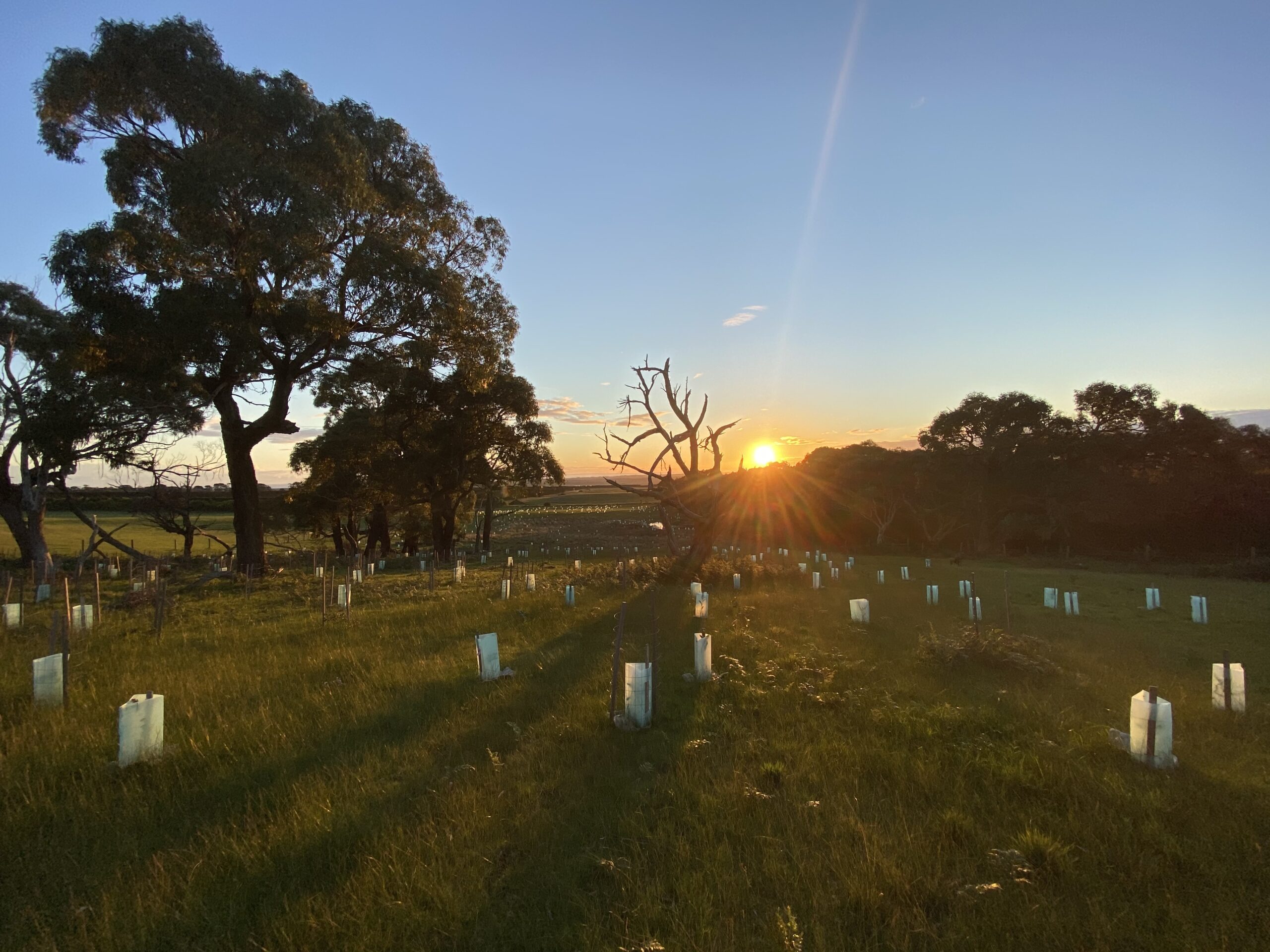 The project has sparked much interest with neighbouring landholders and the future focus is to secure further funding to expand the biolink. As the project continues to grow, we will achieve even greater connectivity in the landscape to provide viable linkages for Indigenous flora and fauna, promote overall catchment health and responsible land stewardship now and for future generations.
If you have a property in the project area below or are interested in volunteering for planting days, contact facilitator@mplandcare.org.au.