Indian myna trapping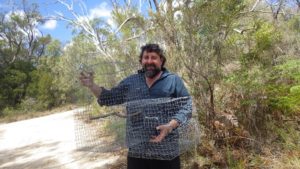 Southwest Mornington Peninsula Landcare Group recognises that Indian Mynas pose a threat to native birds, especially in the urban fringe.  Whilst we recognise that eradication of these pest birds would be extremely difficult, we aim to support landholders across the peninsula to reduce bird numbers to a level where their impact is minimised.
Our program assists landholders to trap their own birds using legal methods.
We've created a handbook which covers most aspects: "MP Indian Myna Project Handbook"
It is important to deter mynas from your garden and encourage your neighbours and friends to do the same.
It is vital that birds are treated humanely.   See: http___kb.rspca.org
To join the trapping program, we ask that you print out and sign the MPIMAG Animal Welfare Protocol 2016  and scan and email it facilitator@mplandcare.org.au 
It'd be great if you could join your local Landcare group so you are covered by their insurance.
Making a trap
If you'd like to make your own trap, you can use these plans: PeeGeeTrapPlansrev June 13
Buying a trap
If you'd like to obtain a trap from a Mens Shed, please contact them via the details below:
Mornington Mens Shed
David Wirth  Email: mensshedmornington@gmail.com
Ph: 0427 888 277 or 03 5977 0242
Main Ridge Mens Shed
Rob Connor
rob.connor@iinet.net.au     ph: 0418 545 125
Facebook
Search "Mornington Peninsula Indian Myna Group" @mpindianmynas and "Like" this page and choose to receive notifications from this page.